Nga Endri Kajsiu
Në skenën e madhe të Samitit Europian, ku të gjithë projektorët janë drejtuar nga seria finale e telenovelës së Brexit, drama e vogël ballkanike për fat të keq rezultoi të ishte pak më shumë se ajo reklama që ndërpret filmin në momentin e tij kulmor.
Mes përgëzimeve për rezultatet e arritura, pa dyshim lobimi asnjëherë aq i fuqishëm gjerman për negociatat tona ishte lajmi më i mirë i ditës. E megjithatë, pikëpamja e Francës, për reformimin e brendshëm të BE-së përpara hapjes së negociatave na detyron përsëri të presim.
Pak në Ballkan e kuptojnë përse procesi i reformimit të BE-së nuk mund të ecë paralel me atë të negociatave, që gjithsesi do të marrin edhe shumë vite deri në momentin e finalizimit të tyre.
Nga rajoni, Kryeministri i Kroacisë, Plenkoviç nuk fshehu zhgënjimin e tij për "ndryshimin e rregullave të lojës pasi loja ka nisur". Ndërsa Kryeministri i Bullgarisë, Borisov, shkoi më tej, duke e konsideruar një gabim historik të Europës, që lë Ballkanin nën mëshirën e Rusisë.
Nuk është hera e parë, që fatet e këtij rajoni, kaq vital e shpëthyes anashkalohen për arsye të brendshme. Nga Traktati i Shën Stefanit, Kongresi i Berlinit, Traktati i Versajës, Protokolli i Fshehtë i Londrës, Sevri, e ca të tjerë, shpesh Europa është tërhequr nga Ballkani, për t'u rikthyer fuqishëm sa herë vakuumi i krijuar i ka dhënë jetë një vorbulle që rrezikonte të përfshinte edhe ata vetë.
Por duke lënë mënjanë analogjitë historike, ajo që për ne është një shtyrje që ndryshon pakgjë, për Maqedoninë është një kafshatë që zor se mund të kapërdihet.
Me ose pa negociata, e vërteta është se Shqipëria ka ende shumë rrugë për të ndjekur deri në anëtarësimin e plotë. Ndaj, në hapen këtë vit, pas ca muajsh apo pas një viti, për ne nuk ka ndonjë ndryshim të madh.
Pa dyshim, zhgënjimi mbetet. Mbetet sepse kështu siç qëndrojnë punët, është e vështirë të kapësh më fillin e logjikës europiane. 27 vende, plus Anglinë në dalje, që bien dakord çdo vit që Komisioni Europian është organi kompetent për të vlerësuar përmes mijëra kriteresh çdo arritje të vendit tonë.
Pastaj, kur Komisioni Europian del në qershor dhe thotë me plotë gojën që Shqipëria ka bërë gjithçka mirë, raporti fillon e transformohet sipas optikës të secilit vend. E nga Shqipëria e meriton, del që Shqipëria duhet të presë sepse problem është tek ata. A do te jete valle e mundur te behen per ne 27 mendje bashke?
Pavarësisht, në thelb asgjë nuk ndryshon. Europa dhe Shqipëria kanë rënë dakord për martesë, por një datë për të, nuk ka. Nuk kishte më parë, nuk ka as tani.
Ndërsa për Maqedoninë, situata është shumë ndryshe. Edhe pse deri më tani asnjë vend tjetër nuk ka avancuar sa ne me vetingun dhe reformën në drejtësi, sakrifica e Maqedonisë ishte shumë më e madhe, e përfundimi shumë më i dhimbshëm.
Pas Malit të Zi, Maqedonia u shndërrua në fushëbetejën kryesore të influencës ruse në Ballkan deri në vitin 2017, kur një rokadë e dhunshme që mbajti peng vendin për më shumë se një vit u realizua me ardhjen e Zaevit pro-perëndimor dhe largimin e Gruevskit pro-rus.
Premtimi që iu dha Zaevit ishte i qartë. Me gjetjen e një marrëveshje për të zgjidhur problemin e emrit me Greqinë, rruga e vendit do të ishte e shtruar si në NATO ashtu edhe në BE.
Ndryshe nga ne, integrimi në BE për Maqedoninë nuk është vetëm një ambicie për standarte më të mira, por një domosdoshmëri e skakierës gjeopolitike për t'u shkëputur nga zgripi rus, diçka aspak e lehtë nëse besohet raporti i Shërbimeve Inteligjente Maqedonase, që thonë se prej së paku 10 vitesh, Rusia ka përdorur të gjithë mënyrat për të mbjellë kaos dhe pakënaqësi në vend.
Prandaj, lënia në dhomën e pritjes, për Maqedoninë përbën një shuplakë të vërtetë fytyrës. Jo më kot, Zaev foli për "shpresë të tradhëtuar". Nga ana e tij, Presidenti Maqedonas pyeti se "çfarë duhet t'i themi tani qytetarëve, që votuan zemërthyer për ndërrimin e emrit vetëm me shpresën e integrimit?".
Mbase më mirë nga të gjithë e parashtroi Borisovi. "Franca nuk e di, se sa e vështirë ka qenë për Bullgarinë dhe vendet e rajonit të distancohen nga influenca ruse dhe influenca të tjera të dëmshme. Ky është një gabim skandaloz, që i hap rrugën pikërisht ndikimeve që na është dashur të luftojmë fuqimisht".
Pa dyshim, vetoja franceze diktohet nga arsye të brendshme. Vala e jelekëverdhëve i ka tronditur pozitat e një Macroni që fitoi ngushtë përballë ultra-radikales Le Pen në zgjedhjet presidenciale të 2017. Sot për sot, 4 në 10 francezë mbështesin platformën e ekstremit të djathtë e gati po aq daljen e Francës nga Bashkimi Europian.
Në një situatë të tillë politike, Macron e di që nuk e ka të lehtë të mbrojë vendimin për zgjerimin e mëtejshëm kur ka përballë një influencë kaq të fuqishme të Frontit Nacional.
Por pavarësisht të gjithave, lënia në dhomën e pritjes për dy vendet tona nuk i shërben askujt. Lodhja nga stërzgjatja e bisedimeve e bën Ballkanin shumë më vulnerabël.
Shqipëria del nga Samiti e paqartë se çfarë duhet të bëjë kur i thuhet bravo për gjithçka, por prit dhe pak. Maqedonia del nga Samiti gati gati e poshtëruar, sepse pranoi të ndërronte emrin për hir të Europës. Tani, VMRO e Gruevskit ka gojë të flasë. "E shihni, që Europa nuk është zgjidhja".
Ndërsa Rusia, ndonëse e paftuar në Samit, pa dyshim që ka një arsye për të buzëqeshur. Vetoja franceze, pa e kuptuar, është një "laisez faire", një nga ato rastet që Putini zor se i lë t'i shpëtojë.
https://www.theguardian.com/world/2017/jun/04/russia-actively-stoking-discord-in-macedonia-since-2008-intel-files-say-leak-kremlin-balkan-nato-west-influence
Russia actively stoking discord in Macedonia since 2008, intel files say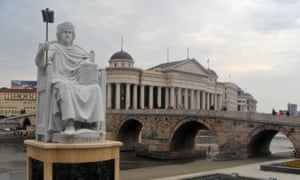 Russian spies and diplomats have been involved in a nearly decade-long effort to spread propaganda and provoke discord in Macedonia, according to a leak of classified documents from the country's intelligence agency.
The documents suggest that Moscow has been seeking to step up its influence all across the countries of the former Yugoslavia. The Kremlin's goal is to stop them from joining Nato and to pry them away from western influence, the reports say.
The files were obtained by the Organised Crime and Corruption Reporting Project and shared with the Guardian. They also show efforts by Serbian intelligence to support pro-Russian and anti-western nationalists in Macedonia.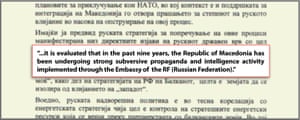 The collection of secret reports comes from Macedonian counter-intelligence.
On Wednesday, the country's Social Democrat leader, Zoran Zaev, was sworn in as prime minister, after six months of political crisis. His new centre-left coalition has the backing of two ethnic Albanian parties.
Zaev has promised to fight corruption and to introduce economic reforms. He wants Macedonia to join the EU and Nato. About a quarter of the country's population of 2 million people are ethnic Albanians.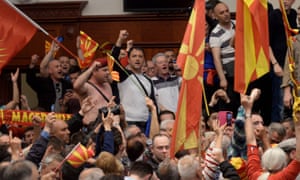 Macedonian nationalists and supporters of the former conservative prime minister Nikola Gruevski have accused Zaev of giving too much power to the country's Albanian minority. In April pro-Gruevski crowds stormed the parliament building in the capital, Skopje. They beat up Zaev and injured others.
Russian and Serbian efforts to push Macedonia away from the west have contributed to the country's long-running political and ethnic crisis, the leaked documents suggest.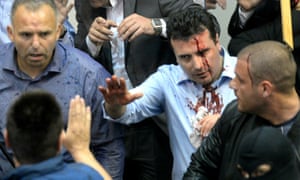 For the last nine years, Macedonia has been "undergoing strong subversive propaganda and intelligence activity" directed from the Russian embassy, according to a briefing prepared earlier this year for Vladimir Atanasovski, director of Macedonia's administration for security and counter-intelligence (UBK).
That influence operation began in 2008 when Greece blocked Macedonia's attempt to join Nato. Greece, its southern neighbour, disagrees with the use of Macedonia as the country's name.

The document says: "By using the assets and methods of so-called soft power, as part of the strategy of the Russian Federation in the Balkans, the goal is to isolate the country [Macedonia] from the influence of the west."
It says Russia's foreign policy in the region is "in tight correlation" with its energy strategy. The Kremlin's aim is to control "strategic energy resources through partnership with the Balkan countries" and to make Macedonia "exclusively dependent".
The leaked files also shed light on how the Kremlin conducts espionage.
It says three agents from Russia's SVR foreign intelligence service are based in Skopje, and overseen by the SVR's sister station in the Serbian capital, Belgrade. The Russian embassy in Macedonia is also home to four spies from Russia's GRU military intelligence agency, with their activities coordinated from the GRU's base in Sofia, Bulgaria.
Journalists for Russia's state news agency TASS and representatives of Rossotrudnichestvo, a state cultural body, worked with Russian intelligence. The FBI has investigated Rossotrudnichestvo on suspicion of trying to recruit Americans as "intelligence assets".
The documents say Russian diplomats are "extremely cautious" when meeting contacts; frequently "change locations at the last minute"; do not use mobile phones; and employ passwords and legends (fake cover stories which mask real identity or purpose). Russian agents have offered cash to Macedonian media to spread "information and disinformation", the files allege.
Russia has also drastically stepped up its cultural outreach in Macedonia, pushing an idea of "pan-Slavic" identity and shared Orthodox Christian faith.
Its embassy has overseen the creation of roughly 30 Macedonia-Russian "friendship associations". It has opened a Russian cultural centre in Skopje and sponsored the construction of Orthodox crosses and Russian-style churches across the country, the documents say. It adds that Russian consulates in the towns of Bitola and Ohrid function as "intelligence bases".
The results of Moscow's influence efforts appear mixed. Russia has been a vociferous supporter of Gruevski, who was forced to step down as prime minister in January after allegations he had thousands of Macedonian citizens wiretapped.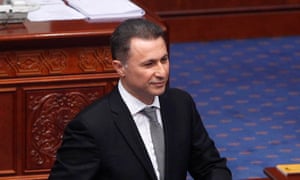 Gruevski and scores of senior Conservative party figures are under indictment by a special prosecutor on charges that include abuse of power, money laundering and corruption. They deny any wrongdoing.
An election in December produced a hung parliament. Russia accused the US and EU of meddling in the poll and said the west, by supporting Zaev, wanted to carve up the Balkans and create a "Greater Albania".
On Nato, the Kremlin has experienced setbacks. In April, Montenegro's parliament voted to become the military alliance's newest member. Bosnia and Herzegovina are candidates for entry. Even Serbia has deepened ties with Nato, despite the resentment many Serbs feel towards the alliance because of airstrikes against Serbia in the 1990s.
A separate leaked document details a meeting in April between the Russian ambassador to Macedonia, Oleg Shcherbak, and the country's top foreign ministry official, Nenad Kolev. Shcherbak reportedly said Moscow's goal was to "create a strip of militarily neutral countries" in the Balkans that comprised Montenegro, Bosnia and Herzegovina, Macedonia and Serbia.
The ambassador described the EU and Nato as "jackals" and said Russia was now "leading global politics". He reportedly warned that Macedonia needed to support Kremlin policies publicly or possibly face economic and diplomatic consequences.
Russian foreign ministry officials did not respond to written questions sent by OCCRP and its partners, Macedonia's NOVA TV and Serbia's Crime and Corruption Reporting Network (KRIK).
Zaev did not comment directly but referred to a warning he made in April, in which he said that unless the EU and US showed an interest in the region Moscow would have "more space to impose its own interests".
Additional reporting from Maja Jovanovska, Borjan Jovanovski, Biljana Sekulovska, Stevan Dojčinović and Aleksandra Denkovska
Since you're here…
… we have a small favour to ask. More people are reading and supporting The Guardian's independent, investigative journalism than ever before. And unlike many news organisations, we have chosen an approach that allows us to keep our journalism accessible to all, regardless of where they live or what they can afford. But we need your ongoing support to keep working as we do.
The Guardian will engage with the most critical issues of our time – from the escalating climate catastrophe to widespread inequality to the influence of big tech on our lives. At a time when factual information is a necessity, we believe that each of us, around the world, deserves access to accurate reporting with integrity at its heart.
Our editorial independence means we set our own agenda and voice our own opinions. Guardian journalism is free from commercial and political bias and not influenced by billionaire owners or shareholders. This means we can give a voice to those less heard, explore where others turn away, and rigorously challenge those in power.
We need your support to keep delivering quality journalism that's open and independent. Every reader contribution, big or small, is so valuable. Support The Guardian from as little 
Support The Guardian